Professional 8-bank battery saving charger for power sport, small engine and deep cycle 6 & 12V batteries
Overview:
The OEM recommended 8-bank battery care center for recovery, charging and testing of all 6V and 12V batteries, including neglected sulphated / low-voltage batteries.
Key features:
Selectable charge voltage – Select battery voltage of 6V or 12V for each bank.
Fully automatic – Once voltage selection has been made, no further battery knowledge required! Connect up to 8 x 6 and 12V batteries and let the charger do the rest!
BANKS / CHARGING STATIONS : 8 (each bank operates independently)
CHARGING AMPS (per bank) : 1A.
USE : Indoor / workshop environment (lowest temperature: -4°F / -20°C).
SAVE : Low Volt Start of 1.8V + 1 step desulphation recovery.
IDEAL FOR : STD, AGM & GEL 6V or 12V batteries from 2Ah.
INPUT : Selectable 110-120VAC / 220-240VAC 50-60Hz, with ON/OFF power switch and replaceable fuse protection.
STYLE : Vented industrial table top case with wall-mount option (TS-218), 6ft / 180cm AC supply lead and 8 x 6ft / 180cm charge lead ending in SAE connector. 8 x standard battery clip sets included.
SAFE: No risk of overcharging. Sparks suppressed. Safe for long-term battery maintenance. Automatic shut-down if short-circuited or battery disconnected. 2-year warranty.
Downloadable product flyers/leaflets: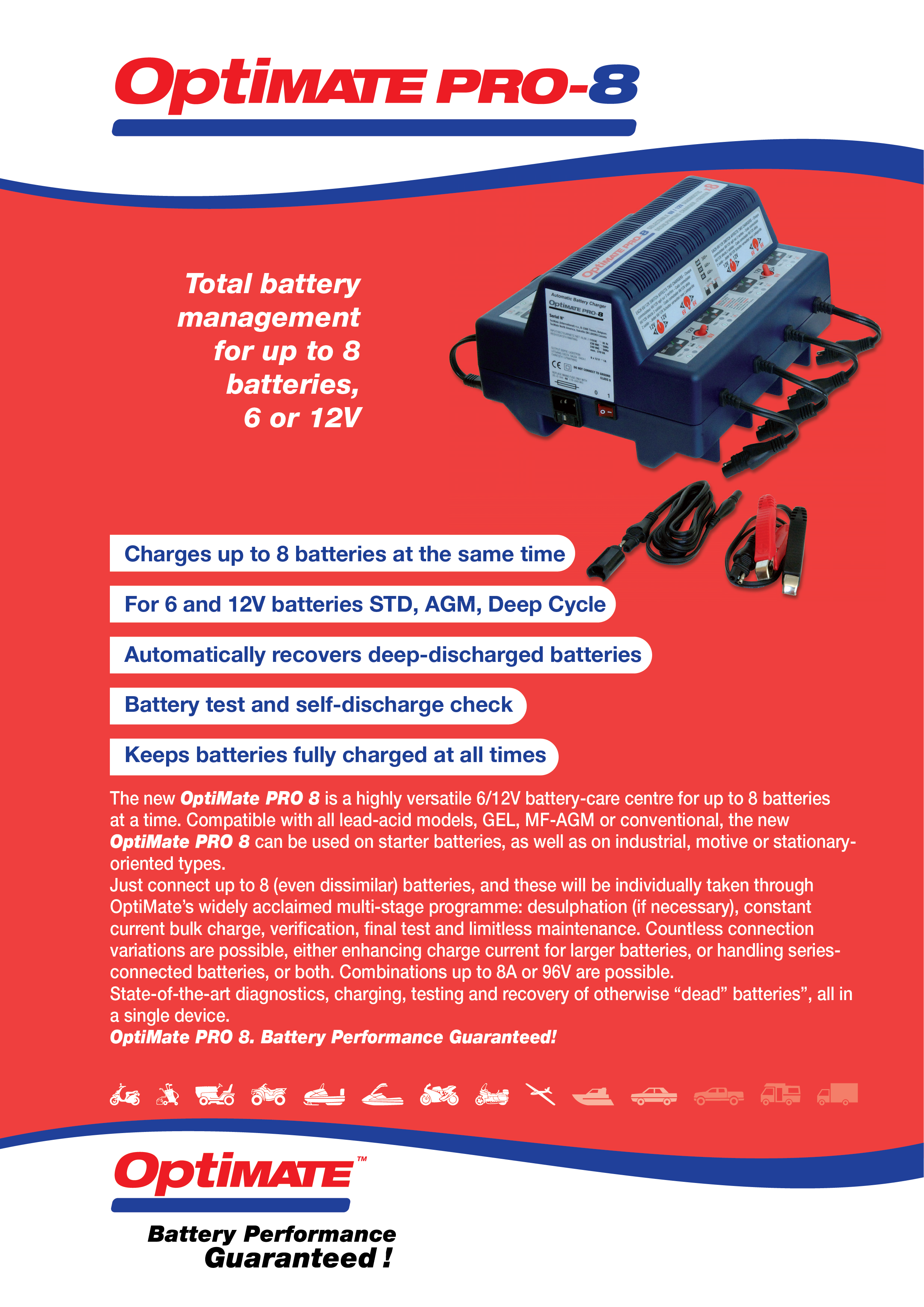 Product videos: